The future is electric and intelligent. Intelligent electric mobility – this is what the new Mercedes-Benz EQ product brand stands for. An attractive design, unique driving fun, high levels of suitability for everyday use and maximum safety are further attributes. EQ represents the two Mercedes-Benz brand values of "emotion and intelligence" and comprises all significant aspects of customer-oriented electric mobility.
EQ offers an all-inclusive electromotive ecosystem of products, services, technologies and innovations. The scale ranges from electric vehicles and wall boxes to charging services and home energy storage units.
Revealed in 2016 the EQ brand aims to build grander mobility resolutions for future humanity desires. Its design emphasis on advanced luxury, an electric car with the look of a sporty SUV coupe. The vibrant exterior design with new electro-aesthetics underlines the focus on the powerful electric drive: Two electric motors whose system performance can be increased to up to 300 kW thanks to scalable battery components and permanent all-wheel drive ensure high driving dynamics. With a range of up to 500 kilometres as well as the typical Mercedes-Benz strengths in terms of safety, comfort, functionality and connectivity, "Concept EQ" undertakes all the requirements anticipated from modern, sustainable mobility.
The future beauty of sensual purity has been conceptualized in an SUV with compact proportions. Its dynamic shape, where no lines encroach on its pure surfaces, is emphasized with a flowing roof-line. On the front, the grille and star raises the styling to an electric and digital level, similarly a glass black panel connects the taillights on the rear. To further extend the design's aims of highlighting a bright future, blue light accents on the body and orange lines on its wheels symbolize its electricity.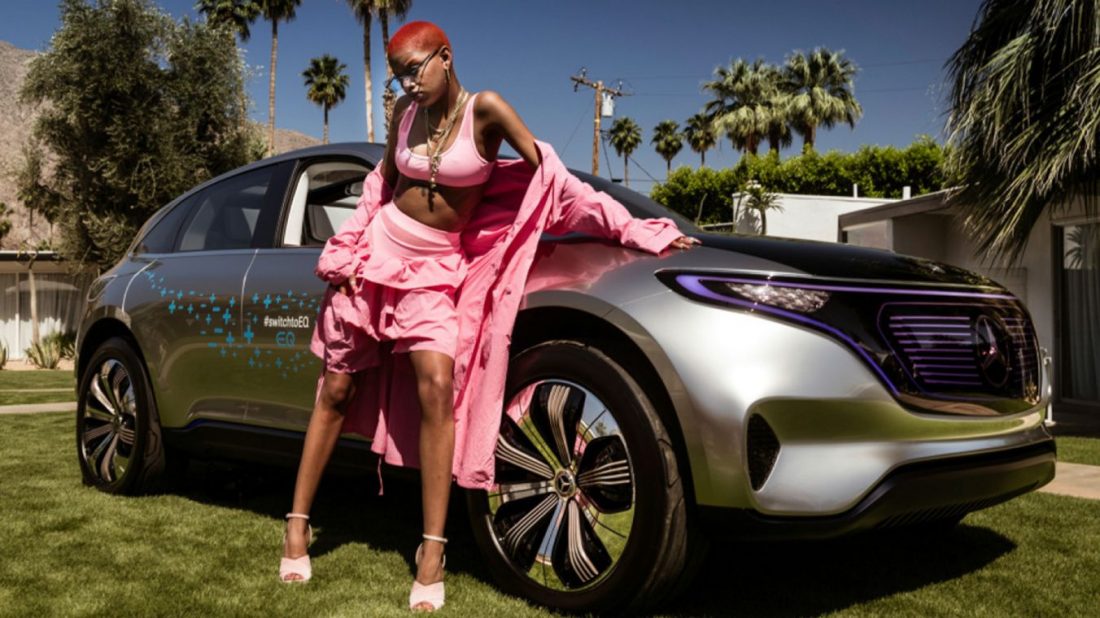 The smooth designing endures in the interior of the EQ SUV. The chrome shapes, such as the air vents, and white wraparound are all orientated towards the driver. Additionally, with the car being an EV, The removal of the mid-section empirically creates an entire new space, a completely new practice for the driver and passengers. blends of warm and cool – including the white and brown body, and blue ambient lighting and rose gold details – truly differentiates an aesthetic of future beauty, whilst electric blue instruments on the dashboard and seat backs reflects its focus on digital and hyper-analogue.
The EQ brand delivers a flavour of the future's great designs: electric vehicles and how Mercedes-Benz's styling may seem in the future. The SUV firmly brings on their designer's goal of creating an all-inclusive luxury experience. They have outdone themselves and created a masterpiece.